Off-Scale High-Grade Zone Discovered at Christie Lake
January 30, 2017
UEX Corporation (UEX:TSX) ("UEX" or the "Company") is pleased to announce that the first drill hole of the 2017 exploration program at the Christie Lake Project (the "Project") has encountered a new high-grade zone of unconformity-style uranium mineralization along the Yalowega Mineralized Trend, 500 m northeast and along strike of the known deposits (see Figure 1).
Hole CB-109 intersected a 7.8 m long (from 475.65 – 483.45 m) mineralized segment with three sections of off-scale massive uranium mineralization exceeding the maximum possible measurement from a hand-held SPP2-NF Series 20 scintillometer.
A table showing the distribution of scintillometer readings from this mineralized interval is outlined below.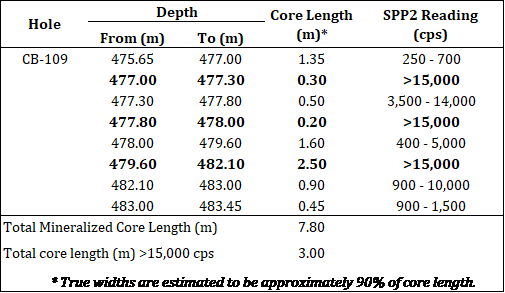 I congratulate our team on their new discovery and look forward to watching them expand this zone into another deposit.
Roger Lemaitre, President & CEO
Technical information
Radiation reported in this news release was measured in counts per second (cps) using a SPP2-NF Series 20 gamma scintillometer, which can read up to 15,000 cps. The reader is cautioned that total count gamma readings may not be directly or uniformly related to uranium grades of the rock sample measured and should only be used as a preliminary indication of the presence of radioactive materials.
UEX surveyed hole CB-109 using our industry standard high-flux downhole probing system that determines Radiometric Equivalent Grades ("REG", see UEX News Release of May 24, 2016) of mineralized zones. The presence of extensive solid uranium mineralization prevented REGs from being precisely calculated, as these probes cannot be calibrated to accurately determine uranium concentrations exceeding 20% eU3O8. Actual grades remain subject to confirmation by assay.
Samples have been collected for assay analysis to confirm these scintillometer results. The samples will be analyzed at the Geoanalytical Laboratory at the Saskatchewan Research Council in Saskatoon, Saskatchewan.
About the Christie Lake Project
UEX currently holds a 30% interest in the Christie Lake Project and is working under an option agreement to earn up to a 70% interest. The Project is located approximately 9 km northeast and along strike of Cameco's McArthur River Mine, the world's largest uranium producer. The P2 Fault, the controlling structure for all of the McArthur River deposits, continues to the northeast beyond the mine. UEX believes that through a series of en-echelon steps the northeast strike extension of the P2 Fault not only crosses the Project but also controls the two known uranium deposits on Christie Lake, the Paul Bay and Ken Pen Deposits.
The Paul Bay and Ken Pen Deposits are estimated to host a combined 20.87 million pounds of U3O8 at an average grade of 3.22% U3O8 and were discovered in 1989 and 1993 respectively. This is a historic resource estimation which does not use resource classifications consistent with NI 43-101. The historical resource estimate was presented in an internal report titled Christie Lake Project, Geological Resource Estimate completed by PNC Tono Geoscience Center, Resource Analysis Group, dated September 12, 1997. The historical resource was calculated using a 3 D block model using block sizes of 2 m by 2 m by 2 m, and block grades interpolated using the inverse distance squared method over a circular search radius of 25 m and 1 m height. Specific gravities for each deposit were averaged from specific gravity measures of individual samples collected for assay. UEX plans to complete additional infill drilling on the deposits during the option earn-in period to upgrade these historic resources to indicated and inferred. A qualified person has not done sufficient work to classify the historic estimate as current mineral resources or mineral reserves. UEX is not treating the historic estimate as current mineral reserves or mineral resources.
Qualified Persons and Data Acquisition
Technical information in this news release has been reviewed and approved by Roger Lemaitre, P.Eng., P.Geo., UEX's President and CEO and Trevor Perkins, P.Geo., UEX's Exploration Manager, who are each considered to be a Qualified Person as defined by National Instrument 43-101.
About UEX
UEX (TSX:UEX, OTC:UEXCF.PK, UXO.F) is a Canadian uranium exploration and development company involved in fourteen uranium projects, including three that are 100% owned and operated by UEX, one joint venture with AREVA Resources Canada Inc. ("AREVA") that is operated by UEX, as well as eight joint ventures with AREVA, one joint venture with AREVA and JCU (Canada) Exploration Company Limited, which are operated by AREVA, and one project (Christie Lake) under option from JCU (Canada) Exploration Company Limited and operated by UEX. The fourteen projects are located in the eastern, western and northern perimeters of the Athabasca Basin, the world's richest uranium belt, which in 2015 accounted for approximately 22% of the global primary uranium production. UEX is currently advancing several uranium deposits in the Athabasca Basin which include the Christie Lake deposits, the Kianna, Anne, Colette and 58B deposits at its currently 49.1%-owned Shea Creek Project (located 50 km north of Fission's Triple R Deposit and Patterson Lake South Project, and NexGen's Arrow Deposit) and the Horseshoe, Raven and West Bear deposits located at its 100%-owned Hidden Bay Project.
About JCU
JCU is a private company that is actively engaged in the exploration and development in Canada. JCU is owned by three Japanese companies. Amongst these, Overseas Uranium Resources Development Co., Ltd. ("OURD") acts as the manager of JCU. JCU has partnerships with UEX, AREVA, Cameco, Denison and others on uranium exploration and development projects in the Athabasca Basin of Northern Saskatchewan including Millennium and Wheeler River and the Kiggavik project in the Thelon Basin in Nunavut.
FOR FURTHER INFORMATION PLEASE CONTACT
Roger Lemaitre
President & CEO
(306) 713-1401
Forward-Looking Information
This news release may contain statements that constitute "forward-looking information" for the purposes of Canadian securities laws. Such statements are based on UEX's current expectations, estimates, forecasts and projections. Such forward-looking information includes statements regarding UEX's drill hole results, the likelihood of REG and scintillometer results being confirmed by assays, mineral resource and mineral reserve estimates, outlook for our future operations, plans and timing for exploration activities, and other expectations, intentions and plans that are not historical fact. Such forward-looking information is based on certain factors and assumptions and is subject to risks, uncertainties and other factors that could cause actual results to differ materially from future results expressed or implied by such forward-looking information. Important factors that could cause actual results to differ materially from UEX's expectations include uncertainties relating to interpretation of drill results and geology, reliability of REG results produced by the Company's down-hole probing system, scintillometer results, assay confirmation, additional drilling results, continuity and grade of deposits, participation in joint ventures, reliance on other companies as operators, public acceptance of uranium as an energy source, fluctuations in uranium prices and currency exchange rates, changes in environmental and other laws affecting uranium exploration and mining, and other risks and uncertainties disclosed in UEX's Annual Information Form and other filings with the applicable Canadian securities commissions on SEDAR. Many of these factors are beyond the control of UEX. Consequently, all forward-looking information contained in this news release is qualified by this cautionary statement and there can be no assurance that actual results or developments anticipated by UEX will be realized. For the reasons set forth above, investors should not place undue reliance on such forward-looking information. Except as required by applicable law, UEX disclaims any intention or obligation to update or revise forward-looking information, whether as a result of new information, future events or otherwise.
Figure 1